RPA : From Process Robotization to Intelligent Automation
Posted on October 1, 2019 by :
Each year, the A CAPELLA Consulting teams meet for 2 days of seminars to share moments of conviviality, workshops, and acculturation sessions. This year, the consultants had the opportunity to accumulate and deepen their mastery of RPA (Robotic Process Automation) during a workshop conducted with their partner Novelis, represented by Walid Dahhane, the company's CTO.
In this article, we invite you to take a look at the concepts backed by the acronym RPA and its use cases.
RPA (Robotic Process Automation) is a subject of innovation and interest but whose background has origins in the birth of IT. It is therefore important to understand that the very topic of automation is not new.
Often the difficulty we have in defining RPA is to show how it differs from the automation processes we already know. The first difficulty resides in the very word "robot" which is not implied as an electronic robot operating alone but rather as software for automating a well-defined process. The second is due to the psychological brake placed behind the word "robot" which induces for some that they are doomed to replace humans in the execution of tasks.
For Walid Dahhane "RPA is the acronym for Robotic Process Automation" which translates into French as "Robotisation des processes automatisés". It is nothing but a software called robot, which performs data processing and manipulation of work, exchange between different computer systems, and executing internal and external communication.
The idea behind RPA is therefore to "robotize" business processes that would require the intervention of a human. The robot thus performs a succession of predefined tasks based on precise and identified information. It captures data in several systems then digitizes and performs actions usually performed by men.
What activities can be automated with RPA?
Once we better understand the concept of RPA itself, we wonder about the nature of the activities that we can automate.
The answer is : almost everything that happens on a computer and that a human can control via a mouse and keyboard (like for example : emulating clicks, entering data, copy / paste, navigate on several screens, connect to applications) and also perform purely computer processing (such as : calling web services, connecting to BDDs). We are in the context of RPA as long as technology can perform the action alone without the intervention of a human being and without a cognitive part in the process.
RPA therefore makes it possible to carry out transactions with any application in the same way as a human, and execute structured tasks.
If we take the example of Kiva robots from Amazon, we are in another field, that of electronic robotics, where the robots operate logistics tasks through learning. In the context of RPA, we always speak of process. The difference thus lies in the technology. In RPA, we are on a "computer" technology which does not present a cognitive function such as Artificial Intelligence in its execution process. For example, a chatbot can be part of an RPA process as a component, but will not be an executable process as such.
So we don't find any intelligence behind RPA but we can have it in some of the components it will use (this is called cognitive RPA – answered later in this article is the different types of RPA). If we introduce intelligence into the RPA process, we kill the RPA and that reassures all the more to know that it will only reproduce what we ask it to do without taking initiatives and without autonomous decision making as we can have in Artificial Intelligence.
In most cases, RPA systems are not intended to live long without maintenance operations or adjustments because the processes they automate can constantly evolve. We thus naturally find a lot of RPA in transient phases of transformation of the IS.
According to  Forrester Research,  "25% of tasks will be automated by 2020".
In recent years, RPA has become an increasingly preferred option by companies to quickly digitize certain simple operations and rapidly respond to regulatory changes. RPA is indeed competitive compared to other and more costly solutions to implement such as IT integration projects or even resource outsourcing.
Companies that opt ​​for RPA in the digitalization of their processes thus find many advantages :
Quality and Precision : RPA effectively eliminates the risk of human error inherent in business processes and enables reliable and controlled results
Consistency and Quality of Service : RPA enables better control of processes and optimizes them
Financial Efficiency : RPA makes it possible to reduce the costs and time of execution of tasks, usually with an increased ROI
Audit, Security, and Compliance : RPA makes it possible to configure the processes of compliance with the necessary standards and rules (security, audit, GDPR, etc.) and provides traceability that may be required larer on during the audits
Productivity and Experience : by automating repetitive tasks, RPA allows employees to devote themselves to tasks that bring higher value to their work
Easy Integration : RPA technology can easily and quickly interconnect with existing systems while integrating advanced algorithms and machine learning tools into its components
Reliability and Availability : finally, RPA is reliable and available at all times, and the process does not suffer from any pause like an action carried out by a human being
What are some RPA used cases?
The choice of an RPA technology is particularly indicated for :
Generation of periodic reports, data entry, and data analysis

Performing repetitive tasks scheduled 50 to 60 times a day

Mass e-mail generation, archiving, and retrieval

Connection to ERP and executing other back-office transactions
To find out which process we can automate and if RPA technology is eligible, take a look at the following decision scheme :
Other issues, however, must be taken into account, such as the number of robots to set up (we can quickly achieve a large number and render their maintenance a hassle), whether the existing system can manage them, and the impact on bandwidth and user interfaces.
The correct definition of the use case is essential to maximize ROI, the objective not being to replace teams but rather to improve their efficiency.
Example of used case presented by Novelis : A multinational food company with a presence on 4 continents wanted to reduce repetitive tasks that interfered with the main activities of the administrative and logistics department. The stakes were high since the error rate in the logistics department implied a total cost of USD 1.2 million in 2016. It has chosen RPA technology and today has 5 Robots that execute operations to both the financial department and the logistics department, without resorting to human intervention (unassisted processes) with more than 25,000 transactions carried out daily. The implementation of RPA thus resulted an annual saving of around USD 300k, but the most interesting achievement is the elimination of human errors quantified annually around USD 1.2 million. It also saved the equivalent of 75 FTEs in 6 months, allowing its employees to deal with other tasks with higher added value.
What are the different types of RPA?
We can distinguish 2 main types of RPA : Traditional RPA and Cognitive RPA.
Traditional RPA is itself divided into two subcategories :
Assisted RPA, which partially automates complex processes to obtain more operational efficiency but where we still need the intervention of a human being.

This is the case, for example, of automated processes in a call center where RPA facilitates and speeds up the process by offering choices to the call center agent based on certain criteria.

This type of RPA is often used for front-office processes

Unassisted RPA, on the other hand, fully automates business processes, thereby maximizing the expected ROI and without requiring human intervention.

This is the example of a system that is fed through the  reception of  e-mails.

This type of RPA is often used for simple back-office processes
Cognitive RPA will integrate intelligent components within the automated process in order to frame elements that involve human reasoning or decision-making, based on certain well-defined criteria. For example, RPA can be combined with OCR (Optical Character Recognition) * or Machine Learning technology. It must be understood that we are talking about adding cognitive / AI components but the skeleton that defines the business process cannot change and become intelligent. A robot cannot therefore decide on its own to add a new dimension to the process that has not been precisely defined before.
What automation tools are available in the market?
There are many RPA automation software out there, and the market is growing. In  Gartner's 2019 Magic Quadrant  for Robotic Process Automation (RPA), we find at the top (see figure below) :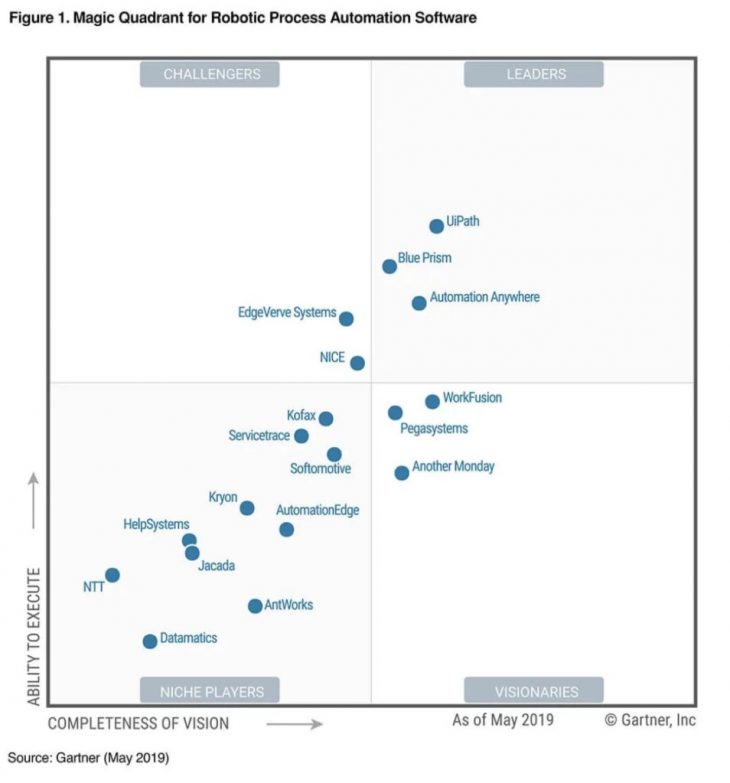 Walid Dahhane's presentation ended with a workshop where A CAPELLA Consulting teams were able to work on the development of use cases specific to the insurance and social protection sector.
In conclusion, Robotics Process Automation is particularly suitable for eliminating repetitive and tedious tasks, speeding up an operational process, and reducing costs. RPA will always be used to automate a rule-based business processes but not all of them are necessarily eligible for RPA, and right questions have to be asked in terms of issues and ROI before embarking on a project. Even if a POC can be achieved in a few weeks/months, the craze of CIOs for this type of solutions has led to the creation of several off-the-shelf robots that can now be purchased online to respond to a generic use case without replacing existing systems.
* The word OCR means optical character recognition or text recognition, a technology that converts different types of files such as scanned paper documents, PDF files or digital photos into editable and searchable files. (Source  Abby, one of the leading RPA solutions on the market for its OCR / Machine Learning alliance)