For the second consecutive year, the collaborators of the Paris office as well as our partners and privileged clients gathered for a weekend on the island of Lopud in Croatia for Novelis Symposium.
An event under the sign of benevolence, collective and sharing.
On the agenda of these two days in Croatia: round tables and conferences on our favorite subjects but above all many moments of conviviality.
Cyber security round table " A digital worker in the SOC teams, or how RPA automation can increase the security level of an organization ", presented by Walid Dahhane – CTO Novelis, Georges Abou Haidar – Solutions Architect Novelis, Oussama Hamdi – Cybersecurity Consultant Novelis and Sylvie Lottiaux – Project Manager Novelis
Technical conference "Can software engineering be automated? Low code, No code and AI", presented by El Hassane Ettifouri – CIO Novelis and Sanoussi Yahaya Alassan – Data Scientist Novelis
Round table feedback " Le management bienveillant " presented by Réda Dahmani – Director Digital Epargne APICIL, Olivier Chosson – Director of Operations Novelis, Céline Banget – Manager Novelis and Georges Abou Haidar – Solutions Architect Novelis
Process Intelligence" Technology Roundtable presented by Greg Brett – Global GM Blue Prism Process Intelligence, SS&C Blue Prism, Christian Marquardt – Director of Mid-Market Sales ABBYY and Walid Dahhane – CTO Novelis
This stay was an opportunity to reaffirm our corporate culture, our values and to offer our collaborators, clients and partners a vision on the future of Novelis and our future projects. It strengthens our links and creates new ones with beautiful meetings.
Apart from this professional half-day, everyone could enjoy the shared spaces of the hotel and its resort (beach, spa) but also the village of Lopud and its magnificent mountainous landscapes bordered by the sea (ideal for hiking enthusiasts).
The Novelis symposium is also the opportunity to warmly thank our clients and partners who trust us on a daily basis in the management of their projects but also the Novelis collaborators, without whom, all this would not have been possible.
To our clients and partners, thank you from the bottom off our hearts for making a room in your lives for us and spending these moments with us. On the behalf of e everyone on Novelis, I want to tell you, our gratitude!
To my colleagues, I never felt so proud on my life as I was this weekend. You gave such a beautiful, kind and honest image of you. I love you guys as my own family. Thank you so so much for everything. Let's keep what we do the best: work hard, with fun, commitment and dedication to our clients. And let's keep sharing unforgettable moments together. Mehdi Nafe, CEO of Novelis
A pleasure shared by everyone!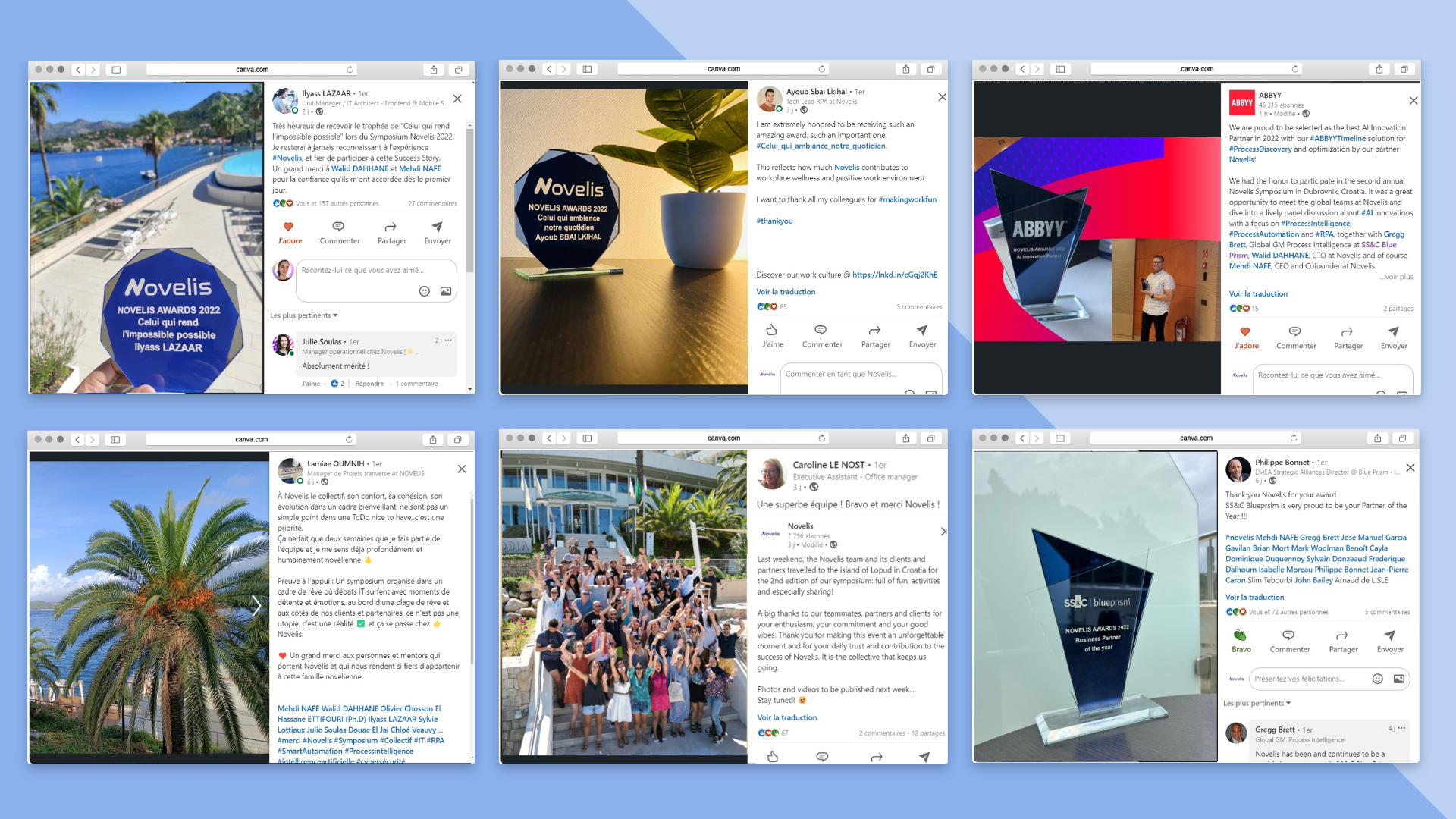 A few testimonials from our collaborators, clients and partners:
"El simposio de este año fue de gran aprendizaje y motivación. En primer lugar, me sentí contenta de saber de todos los avances que se han hecho en cada uno de los equipos que integramos novelis, el gran compromiso de cada una de las personas, y el compañerismo de todos para lograr mejores resultados. En segundo lugar, la convivencia en el fin de semana fue increíble, todos tuvimos la oportunidad de relajarnos y conocernos mejor, más que como compañeros de trabajo, como amigos. Nos divertimos mucho, reímos y disfrutamos del mar y de la compañía de todos." Jessica Lopez Espejel – PhD Doctor Ingénieur en R&D logiciel, Novelis
"C'était mon premier symposium avec Novelis et c'était une belle parenthèse de quelques jours qui nous a permis de partager de bons moments avec les collègues, les clients et les partenaires en dehors du cadre de travail !" Pauline Tang – Chef de projet, Novelis
« Merci Novelis pour ce WE inoubliable qui m'aura permis de rencontrer tous mes collègues Novéliens, mais aussi nos clients et partenaires, dans un contexte détendu et fun ! Merci aussi pour les conférences instructives qui nous projettent vers un avenir « intelligent » ! » Céline Banget – Manager, Novelis 
« Thank you Team Novelis for an amazing weekend and wonderful hospitality. You have such a great team all with incredible energy and talent. I thoroughly enjoyed meeting the team, customers and partners and will not forget this experience. I am a HUGE Novelis proponent within SS&C Blue Prism and that will only continue to increase." Greg Brett – Global GM Blue Prism Process Intelligence, SS&C Blue Prism
« Merci à tous, le week-end fut mémorable. Merci de l'organisation et de votre bonne humeur à tous ! Nous sommes fiers de vous avoir comme partenaire. A bientôt » Philippe Bonnet – EMEA Strategic Alliances Director, SS&C Blue Prism
« Merci pour cet épisode encore très réussi ! Novelis montre vraiment une belle image et vous pouvez tous en être fiers. Bon courage sur vos missions et au plaisir de travailler avec vous ! » Ahmed Agarbi – Adjoint du responsable Maîtrise d'Ouvrage SI Finance / CNRS, Ramsay Santé
« Merci à toute la team Novelis pour votre accueil, vos valeurs et votre bonne humeur ! Week-end superbement organisé dans un lieu tout aussi beau ! De belles retrouvailles et des rencontres inspirantes ! » Caroline Le Nost – Executive Assistant and Office Manager, Me Group
"Thank you again for your very kind invitation to join you on your annual symposium. It was a pleasure for us to meet you and your team again. Thank you, too for your very warm welcome and for being such an excellent host. And last but not least thank you so much for the very thoughtful present." Deniz Güray – Senior Manager Enterprise Solutions, ABBYY
« Encore merci pour ce fabuleux week-end » Florian Delas – Chef de Projet, CMB Monaco
« Merci à toute l'équipe Novelis pour ce week-end inoubliable ! Une organisation au top, une énergie incroyable, une équipe géniale et de belle rencontres ou retrouvailles !! A très vite ! » Alexandre Orsini – Regional Channel Manager EMEA WSE, NICE
« Merci à toute l'équipe Novelis pour ce week-end remarquable ! L'organisation était au top, le lieu paradisiaque, la solidarité d'équipe exceptionnelle, un cocktail qui a permis à tous les participants de faire de très belles rencontres ! Ayant récemment rejoint Blue Prism "you made my onboarding" J'ai été ravi de partager ce moment avec vous, merci de nous avoir communiqué cette belle énergie ! Hâte d'écrire avec vous tous, les prochaines lignes de l'aventure Novelis ! » Slim Tebourbi – Sales Director, SS&C Blue Prism 
« Merci Novelis pour ce moment exceptionnel. Merci de nous intégrer, nous partenaires dans votre équipe, dans votre quotidien et de nous faire participer à votre futur et à votre ambition. Bien sûr le cadre est fantastique, l'organisation est parfaite et la météo sous contrôle, mais votre talent et vos qualités humaines, votre profonde bienveillance font la différence. Bravo à tous et à Mehdi de porter ces valeurs et de nous inviter à les partager. » Isabelle Moreau – France Country Lead & Sales Director France, SS&C Blue Prism